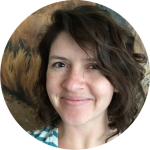 Kate Marsh is an artist and graphic designer based in San Francisco, CA. She produces original work as well as taking commissions. Kate has been interested in the arts from a young age, but first encountered oil painting after a high school plein-air painting trip taught by Daud Akhriev, a Russian Master oil painter. Kate completed a bachelor's degree in art at USC, in Los Angeles. Attending a liberal arts school allowed her to participate in clubs like ultimate frisbee and branch out her skill set into website programming, creative writing, and graphic design. She is currently living in San Francisco and producing a new series in oils as well as developing a life drawing watercolor series and taking commissions.
Exhibitions
Solo show – Spike's Coffee Shop – September 2018
Harass Me? Harass Me Not, a group show at Alleycat Book Store & Gallery – March 2018
50|50 at The Sanchez Art Center – September 2017
Solo Exhibition of 'Unseen Animals' and 'Edible Strata' at the Milton Marks Conference Center Galleries – August 2017
Solo Exhibition of Recent Work at Town's End Bakery – April 2017
Annual Artspan Juried Spring Fundraiser – April 2017
ArtSpan Open Studios Hub Exhibition at Town's End Bakery – October 2016
ArtSpan Open Studios – November 2016
'Endangered' at The Studio Door – August 2016
Chillin' Productions – October 2015
FRESH ART at Marin Society of Artists – July 2013
Summer National Juried Exhibition: Marin MOCA – June 2013
Pop! Goes the Art: Blue Line Arts Group Show – February 2013
Bodies of Work
What Were You Doing When You Were Catcalled? – 2017 – A series of 50 paintings in 50 days for Sanchez Art Center's 50|50 show. Each painting is a portrait of a woman who has experienced Cat-calling or other sexual harassment and a brief version of her story.
Edible Strata – 2016 – Oil paintings on board that abstract the colors and textures of various foods that are commonly served in stacks or layers.

Unseen Animals – 2015 – Oil paintings on board depicting endangered animals hidden within their habitats.

Figures of Light and Shadow – 2015-2017 – Figurative watercolor studies of live models painted on paper.
Wrapped Up – 2014 & 2015 – Oil paintings on panel exploring the mysteries of wrapped objects.
30 Paintings in 30 Days – November 2014 – 30 small oil pieces painted each day of the month.
Clouds and Waves – November 2014 – Oil paintings on canvas focusing on water in many forms.
30 Paintings in 30 days – May 2014  – 30 small oil pieces painted each day of the month.
31 Paintings in 31 Days – October 2013 – 31 small oil pieces painted each day of the month.
Education
University of Southern California Class of 09′ – Bachelor of Arts in Painting
Australia National University – Feb 08 – June 08 (A semester abroad)