Save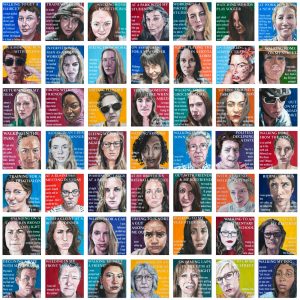 This summer, I am honored to have been invited to the 50|50 show at the Sanchez Art Center in Pacifica, CA. Every artist in the show will create 50 small works (6" x 6") over the course of 50 days. Each artist chooses a theme for their 50 pieces and uses a single medium throughout the 50-piece series. Creation of works by participating artists will begin June 12 and end July 31, 2017. The exhibition will run September 1 – October 1, 2017.
Please join me at the opening Friday, September 1st, or view the show during Sanchez Art Center's opening hours from September 1st – October 1st.
Preview Fundraiser Reception: Fri, Sept 1, 6-8 pm – advance tickets sold out, some available at the door for $30
Open-door Reception: Fri, Sept 1, 8-9:30 pm
Gallery Hours Sept 2 – Oct 1: Fri, Sat, Sun 1-5pm
For my theme, I have chosen the title "What were you doing when you were catcalled?" The series of portraits will address the problem of street harassment of women, and to the fact that it often happens regardless of the behavior, appearance, or activity of the woman at the time. By documenting the absurdity of the commonplace activities that were interrupted by street harassment, the series will draw attention to the incredible frequency at which it happens as well as humanize and empower the women who have their lives interrupted by it on a regular basis.
For an example, I remember feeling particularly indignant a few years ago when I was walking into a pharmacy to get a prescription for a toothache and a man told me I was "so pretty that I should smile more." I couldn't smile because I was in physical pain, and the guy had no concept that I had a life outside of being a pretty person to look at!
Some of the most pervasive forms of street harassment, like telling women they're beautiful or asking them to smile, are often assumed to be harmless. Many people don't understand what's wrong with giving women a compliment.

But the vast majority of people who are on the receiving end of this attention don't see it this way; in fact, according to Hollaback!'s new survey, just three percent of respondents under the age of 40 agreed that these interactions are complimentary. Instead, previous qualitative research has found that women report feeling angry, annoyed, disgusted, nervous, and scared when they're the subject of catcalls. They're often concerned the situation will escalate into something more threatening.

From the article This Is What Women Are Forced To Do To Avoid Street Harassment
I asked for 50 volunteers to take a photo of themselves and share a story with me of what was going on in their lives during a time they experienced street harassment. Using these photos and reasons, I am painting 50 pieces – one portrait every day from June 12th to July 31st.
By giving context about women's personal experiences, the series will draw attention to the problem of street harassment while portraying women as powerful, complex human beings.
Save